The Insight Core Framework: Instructional Framework for CCRS
The College- and Career-Ready Standards (CCRS) chart a bold and compelling vision for moving beyond the rhetoric of college and career readiness to making certain students actually are ready.
The CCRS suggests shifts in teaching practices that will help students master them.
At the same time, schools and districts across the country are trying to figure out how to better align their instructional frameworks with the Standards. The Insight Core Framework (ICF) does just that.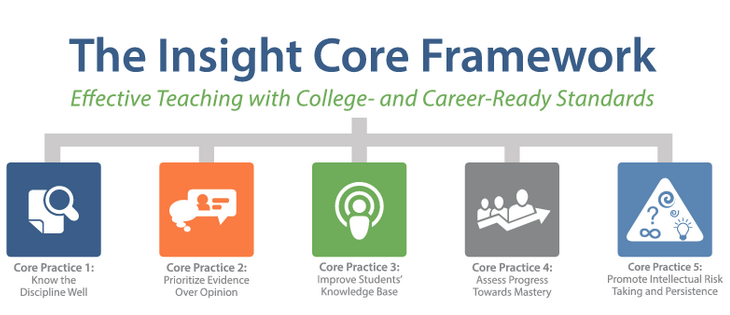 The ICF was developed exclusively by Insight to meet the emerging needs of districts and schools transitioning to College- and Career-Ready Standards.
One of the only frameworks to specifically align to the CCRS, the ICF has been used in districts and schools across the country. It also has been adapted and approved by the State of New Jersey to serve as a district-wide instructional framework.
The framework:
Uses the language and logic of the CCRS Focuses on classroom instruction that promotes mastery of the CCRS
Helps observers focus on the instructional practices that will improve student outcomes and teacher practice with the Standards
Was created from the ground-up by teachers and school leaders with deep knowledge of the CCRS and instruction
Complete the form on this page and you'll receive:
Framework Context: Effective Teaching for the CCRS
Describes the development of the Insight Core Framework.
How it can be used to support teachers and leaders to implement CCRS.
Several "Big Ideas" inherent in the CCRS and how they indicate specific Core Practices teachers can use to help students achieve the Standards.
College- and Career-Ready Standards Framework and Rubric
Framework and rubric descriptions of the five Core Practices
Indicators for each Core Practice
Bibliography
Based on several years of on-the-ground work developing and implementing instructional frameworks and standards-based instruction in districts throughout the country
A thorough analysis of CCRS, professional teaching standards, and the related research about effective teaching, labor market trends, and college- and career-readiness.
Download ICF documents by completing the form on the right (or below on mobile devices).