We are thrilled to share that ADVANCEfeedback™ has been recognized as a new outstanding educational technology tool by Tech & Learning Magazine's 33rd Annual Awards of Excellence.
We've worked hard to make ADVANCEfeedback™ the most growth-centered human capital management system available for educators, so it's a great honor to see it recognized as an outstanding technology solution this year.
ADVANCEfeedback™ makes it possible for observers to provide teachers with the kind of actionable and specific feedback that inspires real professional growth and increases student achievement. And its innovative video-based observation option promotes greater acceptance of feedback and deeper self-reflection. The platform also serves as a central location for all evaluation components and tools, including in-progress and cumulative reports, unit and lesson plans, evidence/artifacts, and schedules.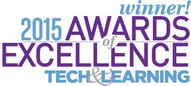 This prestigious recognition program judges on quality, effectiveness, ease of use, creative application of technology, and suitability for an educational environment. A panel of experienced educators and the Tech & Learning editorial team selected winners after several rounds of testing and scoring.
We want to thank Tech & Learning for all they do to promote innovation in education and are excited to see the magazine's award issue in December 2015.