The Cairo School Leadership Symposium
Saturday, May 20, 2017
Dusit Hotel, 5th Settlement
8:30 a.m. - 4 p.m.

Sponsored by:

Insight Education Group and Edupedia invite school leaders from across Egypt to join us on Saturday, May 20 for a rich day of learning and discussion on topics that are most pressing for school leaders.
Research tells us that there is no greater school-related impact on student achievement than a teacher in the classroom. The second greatest school related impact on student achievement growth is principal effectiveness.
If you are a school leader—an executive director, head of school, headmaster—this symposium is for you.
Through the symposium, you will learn the keys to increasing the effectiveness of your leadership, including practical ways to support your teachers as well as how to execute on the priorities that matter most to student achievement.
Learn more about the Symposium:
AGENDA
The day will include six, 50-minute sessions. You and your leadership teams may attend as many of the sessions you would like.

8:30 - 9 a.m.
Breakfast & Networking

9 - 9:50 a.m.
SESSION 1: Best Practices in Asset-Based Quality School Reviews
Our experience has shown that the vast majority of school reviews serve—at best—only to confirm well-known deficits endemic to many schools. And at worst, they simply confirm the reviewers' own biases and assumptions. Learn how to identify bright spots—assets—that can be leveraged and scaled toward greater improvement in your school.
10 - 10:50 a.m.
SESSION 2: The Critical Shifts Healthy PLCs Make
All too often, exceptional teachers don't get the recognition they deserve, and, all too often, their expertise—what they know and are able to do better than most—remains an untapped resource. Learn how the Supporting Teacher Effectiveness Project (STEP) framework can guide your educators in identifying the bright spots—assets—that can be leveraged and scaled toward greater improvement and replication across your school.
11 - 11:50 a.m.
SESSION 3: Instructional Leadership for Teachers and School Leaders
By the end of this session, participants will compare and contrast various models of teacher leadership including specific, varying roles and responsibilities across contexts. The presenter will provide lessons learned on implementing teacher leadership models across thousands of schools including selection, training, and support. This session will also include an analysis of the role of distributive leadership by principals as well as the benefits of including teachers on an Instructional Leadership Team (ILT).
12 - 1 p.m.
Lunch Break (with lunch provided)
1 - 1:50 p.m.
SESSION 4: How Video Observation Empowers the Teacher Feedback Process
Teachers are looking for feedback that is going to help them move the achievement needle with their students. Research from Havard University has shown that video can provide some interesting opportunities for school leaders and coaches to provide feedback that is both specific and timely. In this session, explore how our award-winning platform, Insight ADVANCE, can provide the feedback your teachers need—and want.
2 - 2:50 p.m.
SESSION 5: Keys to Building Instructional Leadership Teams
Despite best efforts, the majority of initiatives in schools today fail—70% on average—and don't result in the intended outcomes. What's the main reason? Execution. Learn about a model that can transform your school improvement efforts by providing the focus, discipline, and accountability among your leadership team to successfully execute on your short- and long-term goals.
3 - 3:50 p.m.
SESSION 6: Proven Planning Process for Classroom Instruction
Based on a backwards design planning process and field-tested with educators over 10 years, learn how Strategic Design for Student Achievement guides teachers and school leaders through specific steps to unpack content standards, align assessment and instruction, and understand the depth of comprehension required of students for mastery.
FEATURED SPEAKERS

JASON STRICKER



Jason is a co‐founder and CEO of Insight Education Group. With extensive experience in education as a teacher, coach, chief academic officer, and consultant, Jason brings to his work a deep understanding of educator effectiveness and organizational change and its impact on stakeholders at all levels. Full bio >

JASON CULBERTSON



Jason is president of Insight Education Group. His experiences as a former classroom teacher, leader for state and non-profit organizations, and thought partner for districts, states, several countries, and the United States Department of Education and Queen Rania Teacher Academy (QRTA) provide him with unique expertise in solving the challenges of underperforming schools. Full bio >



ABOUT THE SPONSORS

Insight Education Group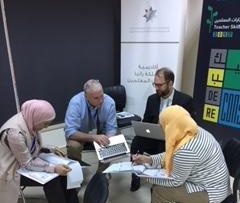 We are an international educational consulting company based in Los Angeles, California, USA that works with education leaders around the world to develop the strategy and confidence to lead bold change—and provide the embedded supports to make change happen. Learn more >

Edupedia
Based in Cairo, Egypt, Edupedia is an educational consultancy firm that was founded in 2010. We believe that the human force of leaders and teachers in a school is the most important component in building learning. Learn more >
LOCATION
Dusit Hotel, 5th Settlement
There is no cost for attending this Symposium.
We look forward to seeing you there!