Throwback Thursday is our new weekly blog that opens up our vault and reshares some of our most popular topics. Each week, we hand-select our Throwback Thursday blogs to be sure you have the best and most compelling information on educator effectiveness
This blog was originally posted in February 10, 2015.
Every year, millions of dollars - and even more hours - are spent on observations and evaluations in schools. Unfortunately, neither teachers nor school leaders seem to think it's working the way it should.
At a recent District Administration Leadership Institute (DALI) conference, my colleague, Richard Nyankor, and I shared these two alarming statistics from a recent poll conducted with SmartBrief Education:
When school leaders were asked if they believe their current evaluation systems promote teacher growth, 62% said no.
Nearly 70% of teachers said that they do not get enough meaningful feedback from observations and evaluations.
Given the time and resources already dedicated to educator effectiveness systems - and the critical need for skilled teachers in every classroom - districts and schools must have a solution that actually connects teacher observation and growth.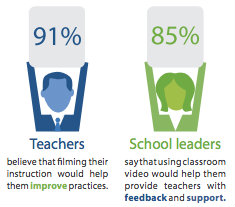 And classroom video, as Richard and I explained to the audience, is quickly emerging as the way to make it happen.
Here are the five things we know about video in observation and evaluation and why it works:
Check out the entire
DALI presentation
to hear more and come see us at the next DALI conference in Phoenix (February 18-20, 2015).

Dr. Michael Moody
is the Founder and CEO of Insight Education Group. His experiences as a
classroom teacher,
school and district administrator and consultant have given him a unique perspective on both the challenges and opportunities in education today. Contributing regularly to the blog, Michael is always excited to start or join a conversation about h
elping educators grow. He tweets at @DrMichaelMoody.