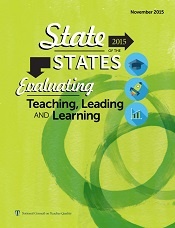 Earlier this month, the National Council on Teacher Quality (NCTQ) released its 2015 State of the States report on trends in educator effectiveness across the country.
Since 2007, NCTQ has taken on the considerable task of compiling the most up-to-date information on how states evaluate teachers (this year's report includes principal effectiveness systems, too) and connect the dots between policy and practice.
According to the report, the majority of states have made or continued efforts this year to incorporate objective measures of student learning, as well as connect evaluation systems to college- and career-readiness initiatives.
While all trends are significant, we are particularly compelled by the data showing how states are working to ensure their systems support educator growth. As the NCTQ points out, "The real power in performance-based evaluations lies in using teacher ratings to recognize and encourage effective instruction as well as prepare and value highly effective teachers."
But there's still plenty of work to be done. Currently, only 25 states use evaluation data to inform teachers' professional learning. Furthermore, Delaware, Florida and Louisiana are the only states in the country to put it all together by linking effectiveness systems to teacher preparation, professional development, improvement planning, compensation, and retention.
Thank you to NCTQ for such a tremendous resource. Let's keep the conversation going and ensure that all evaluation systems start working to promote growth, not just "gotcha."

Dr. Michael Moody is the Founder and CEO of Insight Education Group. His experiences as a classroom teacher, school and district administrator and consultant have given him a unique perspective on both the challenges and opportunities in education today. Contributing regularly to the blog, Michael is always excited to start or join a conversation about helping educators grow. He tweets at @DrMichaelMoody.