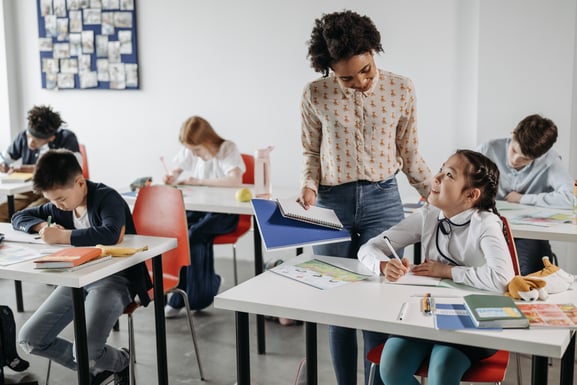 The COVID-19 pandemic has interrupted traditional approaches to how we interact and connect with each other. This is true in all facets of our lives, including education, which has been dramatically impacted—from how we teach to how we collaborate to how we recruit talent. Traditional job fairs were coming to an end even prior to the pandemic as the job market evolved and districts started to get creative with new methods. School districts began to have recruiting events and 'meet-ups' at local restaurants. This provided a more intimate setting and an informal opportunity for current staff to speak with potential candidates.
In March 2020, the world of in-person recruiting events was turned upside down and virtual events became the norm. Combinations of invite-only to open recruiting events became the current recruiting fair. But, attendance waned as the demand for more educators steadily rose. And that trend continued: there were fewer candidates for more positions and previously hard-to-fill positions became impossible-to-fill positions.
Two years later we are experiencing the highest rate of educators leaving the profession and a decrease in the numbers of individuals entering the profession.
However, we now have an opportunity to shake up the recruiting world. We can now connect in-person via meet-ups and fairs but we also have the experience to create virtual events as well. It's not enough for a district to do one or the other; they must do both. That said, there are a few fundamental questions that we need to ask ourselves when marketing and planning our recruitment events: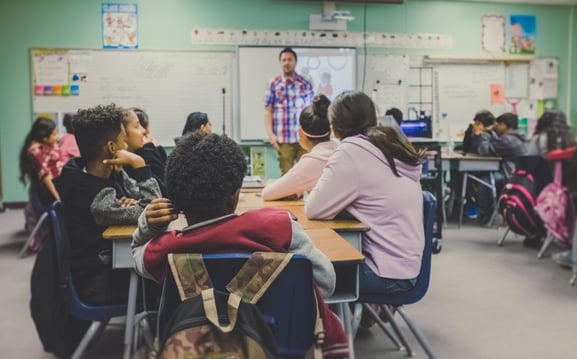 Who is the audience that we are trying to reach?
The world of PK to 12 education is rapidly changing and districts can't rely on a single pipeline of talent. It's important to consider a multi-pronged approach and a variety of candidate profiles when designing your events. All candidates should feel welcome at each event, but if you're strategic about the planning, you'll increase the number at the event while also focusing on the type of candidate that is attending. Here are some examples of candidate profiles:

Recent or upcoming undergraduates with a degree in education
Recent undergraduates with a degree in something other than education
Experienced teachers from other districts
Paraprofessionals who are looking for a new role
Career changers
Once you know your audience, you can then tailor the event to market to that audience. Here are some things to consider:
What is the best location for that audience?
Let's consider our upcoming graduates. Assuming that the district has a connection with a local IHE with an education program, you may want to consider hosting the event on or near the campus. This may draw not only education majors but also non-education majors interested in education. If you can reserve a space in a restaurant and purchase some appetizers for the group, the investment will pay off. This doesn't mean that veteran teachers or career changers can't attend, it means that you're targeting that location for upcoming graduates.
Additionally, you also must host virtual hiring events to allow candidates that are unable to attend in person an opportunity to learn about the district. The same strategy applies to creating a welcoming virtual recruitment experience for candidates. In the virtual world, you may consider launching with all candidate profiles in one room and then utilize breakout rooms to tailor the experience.
Who should represent the district at the event?
Sticking with our recent undergraduates, who better to meet with them than some recently graduated teachers from the same IHE that can relate to their current experience coupled with some veteran teachers who serve as mentors? They can share how much they love the district/school, how supported they were, and the difference it has made. It's also a great opportunity to build early leadership skills for the staff that are helping to recruit (retention strategy!). Of course, a couple of dynamic principals would also be really helpful in any recruitment event. The caveat is that you want to strike a balance between the number of district representatives and candidates—so keep an eye on the numbers.
Now that you have your target audience, location, and district team, it's time to market the events. Yes, multiple events. The days of the single job fair for all applicants have passed. If you're serious about recruiting top talent, you have to diversify your approach and attract a variety of candidates. You don't fish for tuna with the same bait you fish for flounder.
How do you reach the target audience?
This is definitely the tricky part. However, if you approach it by broadcasting the entire campaign of recruitment opportunities, then you'll experience greater success. Develop and advertise a calendar of 5 to 7 district-sponsored recruitment events that vary based on time and location starting in December or January for the following school year. Be sure to hold at least 2 or 3 of them virtually. Leverage your social media to market the events; using paid social media will allow you to increase your potential market audience. Be sure to get it into the inboxes, feeds, and stories of your IHE partners, district staff, and alumni organizations. Each of these three groups has broad networks that are committed to education in your district. It's important to leverage them all. Dr. Jennifer Alexander from Colonial School District has experienced success in collaborating with IHEs and says, "Many undergraduate professors will allow you to come into their classes and speak to the students. This can be a gold mine for finding talent for your district." Finally, be sure to have a

landing page

for recruitment and retention with a link to sign up for the events.
How do you design the time together?
This is another opportunity for nuances to come into play based on the audience and the space. You want to leverage the time to create a sense of belonging and significance for candidates. The district team should be easily identifiable (i.e. wear district gear) and someone should take a few minutes to welcome the entire group, introduce the team, and share the format. There are a number of ways you can design the format, but be sure to think of the candidates and be creative in the space. Katie Kremer, Lead Teacher of Recruitment and Retention in Colonial School District, has been planning events for the past several years and says, "Inviting specific district representatives that cover a range of roles (teachers, principals, district leadership) is really helpful for the candidates. They can hear directly from the people who are doing the work. This is also a great way to include more teachers and principals in the recruitment process."
What is the follow up plan with candidates?
Be proactive and plan the follow-up event for candidates that you want to continue to connect with and you would like to get to the next stage. This should either be an interview or, even better, a model lesson. Having the date and time mapped out for candidates is critical and you want to move quickly, as they are looking at other districts for opportunities as well.
What did you learn from the event?
Too often we conclude an event and then move on to the next one without taking time to reflect. Take 30 minutes either immediately after the event or the following day to reflect on the event's success. Think "

After Action Review."

Collecting data on who came to the event and how they heard about the event is important to planning future events. But don't stop there, it sends a strong message to people when you ask, 'What did you think of the event?', 'What made it valuable for you as a candidate?' 'What can make it better for you?'. These questions tell the candidate that you value feedback and care about the candidates, which most likely translates into the district cares about the staff. The success of your next event depends on your ability to reflect and make adjustments.
Of course, there are a number of considerations not covered in this blog that the District Recruitment and Retention team should identify and address in advance. If you're a district that is interested in thinking differently about your recruitment and retention strategy, visit Insight Education Group's recruitment and retention page or schedule a time to meet with me.
Special thanks to Dr. Jennifer Alexander and Mrs. Katie Kremer for contributing to this blog.