Strong leadership and clear priorities are integral to the overall success of school improvement initiatives.
As discussed in 5 Reasons Every District Leader Needs an Executive Coach, to be an effective agent of change today in districts requires leaders to have unique expertise in a wide variety of areas, including strategic planning, research and analysis, fiscal management, board and community engagement, implementation planning, communication and training, professional learning design and curriculum, and coaching.
Recent research suggests the type of professional development with the most impact on student achievement is one-on-one coaching.
Executive Leadership Coaching Benefits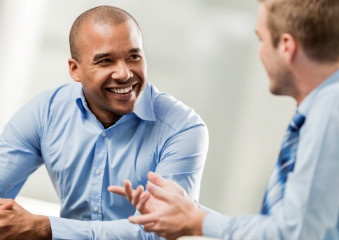 In our blog, 7 Reasons Why Districts Need to Invest in Principal Coaching, we shared how leaders can benefit from leadership coaching in several key ways.
Helps leaders become effective agents of change in their buildings with expertise in research and analysis, educator engagement, strategy and policy development, implementation planning, communication and training, professional learning design, and curriculum.
Provides support to leaders in developing cohesive plans and sustaining the laser-like focus needed to move all stakeholders in the right direction.
Supports leaders in establishing and reinforcing of evidence-based processes and levers that will improve teaching and learning in schools and/or across districts.
Provides leaders with more comprehensive perspectives, which means "looking at old problems in a new light, as well as confronting new challenges with different tools and reactions." (Bolman & Deal)
Meets leaders where they are through personalized and individualized support.
Creates and works toward a Problem of Instructional Practice.
Creates emotional resilience in leaders which decreases turnover.
Insight's Executive Coaching Program
Specifically, Insight's executive coaches work with leaders on-site and/or virtually to:
Implement school-wide educator effectiveness initiatives to ensure expectations for performance are clear and reflect the leader's school or district's high standards for instruction.
Conduct strategic fiscal planning and management, including ROI analyses on existing initiatives.
Establish and reinforce evidence-based processes and protocols that will improve teaching and learning in schools and/or across districts.
Align and allocate resources around improved and equitable learning.
Build the capacity of staff to support instruction.
Develop sound reflective practices that expose new growth and areas of opportunity.
Coaching is a great way for leaders to reinforce content and skills acquired in the synchronous Insight Leadership Academy training sessions and to support continuous growth and development.
About Insight's Executive Coaches
Our executive coaching is successful because we are authentic. We've been in the shoes as senior leaders in districts and state-level organizations and know how hard the work is. As coaches, we provide a good balance of solutions that inspire confidence and help move the work forward while facilitating reflective conversations that empower leaders to own their own improvement.
Additionally, we have been trained in a highly effective coaching model that has been tested in the field for over a decade with numerous examples of significantly improving leaders' performance and student achievement.
We employ a variety of skills and strategies to offer fresh perspectives, co-create solutions, push leaders to attain goals, reflect on practices, and celebrate successes, as well as integrating effective protocols (e.g. consultancy protocol, 5 Why's from Data Wise, critical friends, and problem of practice).
What Leaders Are Saying
Nehemiah Thomas, the principal at East Academy, part of the ACCEL Charter Network in Ohio, says:
"As a principal, I've really appreciated the added layer of support from Insight Education Group. The personalized executive coaching I've received—both in-person and virtually—has really helped me grow as an instructional leader and has encouraged me to make bold changes to support the growth of my teachers and students."
If you're interested in learning more about executive coaching opportunities, send us a message or give us a call at 800.935.7022 x3.

Recommended reading: Distributive Leadership: 5 Ways Principal Coaches Can Help Principals Execute