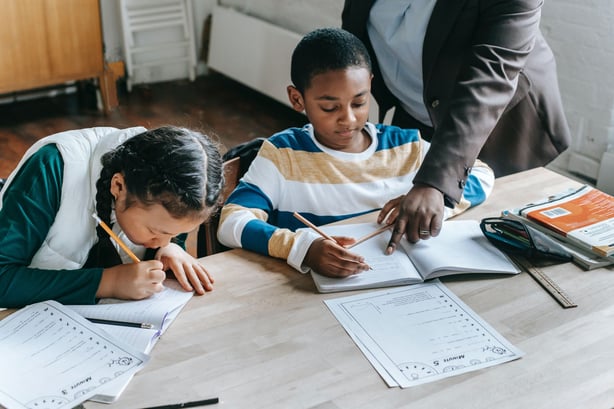 This month, we recognize Mental Health Awareness month—a time to raise awareness around the reality of living with mental illnesses. This past year and a half, in particular, has presented many challenges around mental health and, as a result, how people manage their social and emotional needs.
Now more than ever, it's important that schools understand how to address the impact of trauma for their staff and students and put Social Emotional Learning (SEL) at the forefront of school leadership plans. According to CASEL, the benefits of SEL awareness for students are numerous and include increased academic achievement, improved behavior, increased graduation rates, and improved student attendance (CASEL, 2020).
Our global community has experienced events that have changed the way we connect and process. As we begin to re-open, schools and districts should be prepared to spend meaningful time rebuilding school culture. As part of an SEL-focused reopening approach, schools and districts need to provide students and teachers with opportunities to build purposeful relationships and community. Below are some tips for schools and districts to approach this task and support teachers and students in building meaningful connections as they return to school.
Supporting Teachers through Reintegration
Create opportunities for teachers to connect with one another and process how they are doing. Teachers need time to build connections with one another in person, even beyond professional development. In order to support students in the classroom, educators require time to process how this last year and a half has affected them.
Ensure that teachers (and students!) are equipped with trauma-informed practices. How has this personally impacted our lives? How do we address challenging moments in the classroom? What do we need to be mindful and aware of?
Recognize that self-care looks different for everyone and support teachers in understanding how they define self-care for themselves. For example, some people will appreciate a donut in the morning, but others would appreciate an hour of personal time back in their day. In order to avoid "burnout culture," focus on helping their staff identify what balance looks like for them.
Supporting Students through Reintegration
Spend time planning what the school culture should look like, sound like, and feel like with your staff and include opportunities for student voice and input. The past year and a half has been an entirely different experience for students, so spend some time processing how you want student experiences to transform as they return to school.
Make sure that students have time to re-familiarize themselves with the school environment. Bring them in during the summer to engage in community building activities with one another and with staff. Open up opportunities for students and families to visit the school and meet staff. Keep in mind that students who have a hard time with transitions might need additional support and time to reacquaint themselves with the school setting in a more personalized way.
Provide opportunities for teachers and students to build authentic and genuine relationships. Starting each day with a homeroom-type class focused on relationship and culture building is a helpful way to build community and check in on students' wellbeing.
As we transition into an in-person school schedule, it's critical that we're prepared with the right support for our students and teachers. The way that individuals will experience this transition will be challenging at first, so we should be prepared to support one another through these challenges. While the social emotional wellbeing of teachers and students are being challenged, we can work to address these trials with thoughtful planning and targeted support.
Recruiting, Retaining, and Supporting Teachers
As schools began to reopen after the COVID-19 pandemic, teachers scrambled to get their students on track after so much learning loss occurred. Do our educators have everything they need? Recruitment and retention means nothing without support systems that ensure your teachers have every tool they need to excel in the classroom.
Are you interested in exploring SEL resources for your community? Check out some of these suggestions below:
25 Ways Teachers Can Integrate Social-Emotional Learning: Teachers can use this tool for ideas to support SEL in their classrooms.
Comprehensive Guide on Adult SEL: This toolkit includes resources in understanding and engaging in adult SEL.
10 Ways Parents Can Bring Social-Emotional Learning Home: This article provides tips for parents to engage in SEL practices with students at home, especially as they transition from virtual to in-person schooling.
Are you looking for additional resources to support teachers and students?
Be sure to check out: