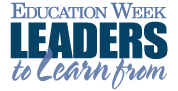 Every year, over 150 of the most respected education leaders from across the nation join together to recognize those selected as Education Week's Leaders to Learn From.
And this year, Insight will be there to celebrate the 16 leaders of 2015 in person for their innovative and relentless efforts to solve some of the most pressing challenges in their districts.
We're looking forward to meeting and learning from these leaders and other inspirational educators at the event on Wednesday (March 18) in Washington, DC.
If you plan to attend, be sure to stop by and connect with us!