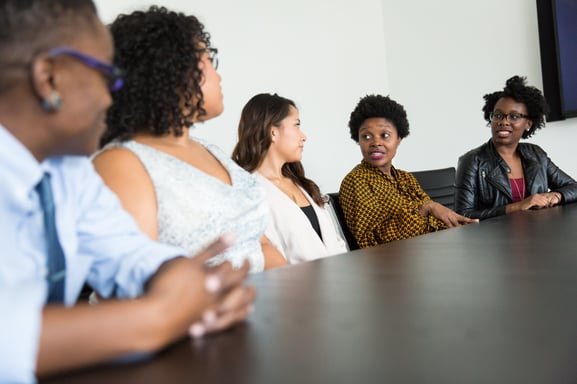 The COVID-19 pandemic has left long-lasting impacts on educators and students alike. According to a report cosponsored by the NEA, "what was once referred to as stress or educators 'having a bad day' – which might still be happening – has evolved." Schools are realizing the very real presence of Secondary Trauma Stress (STS). Secondary Trauma Stress or compassion fatigue is defined by the National Child Traumatic Stress Network as the "emotional duress that results when an individual hears about the firsthand trauma experiences of another. Its symptoms mimic those of post-traumatic stress disorder (PTSD)." By increasing awareness and understanding of STS, school administrators can offer teachers information, professional development, and resources to create a school culture that allows them to feel supported and safe while dealing with the effects of compassion fatigue.
STS expert Charles Figley states, "many types of professionals, such as physicians, psychotherapists, human service workers and emergency workers, are vulnerable to developing this type of stress, though only a subset of such workers experience it" (Figley, 2011). In recent years, teachers have been included as those experiencing workplace Secondary Stress Trauma as well. The common symptoms of compassion fatigue can range from traumatic anxiety, depression, and workplace apathy, all of which can lead to stress triggers for teachers causing an unhealthy learning environment for students and teachers. The Administration for Children and Families offers a comprehensive list of STS symptoms that principals can reference as they begin to consider ways to support teachers to maintain a healthy emotional balance.
In an effort to support teachers with STS, administrators are encouraged to create school-wide policies to promote a safe, healing, and compassionate school culture.
School Improvement Demands Self-Care for Teachers
Administrators should not only encourage teachers to practice self-care, but also offer school-wide activities that support teacher wellness. The Open Mind website offers a series of stress relieving video activities by Heidi Woods, the Founder and Director of Training of Mindful You. It includes 10 minute videos and sound activities such as deep belly breathing and guided meditation that could easily be utilized during a staff meeting or lunch break during the day. These practices are critical avenues that allow teachers to balance their compassion fatigue. Principals can also take an additional step beyond acknowledging that an increased number of teachers are in crisis. They should also encourage teachers to take self-care assessments, such as the one offered here by Brown University, and create a self-care plan for themselves.
Professional Development to Enhance Social Emotional Learning and Equity
The NEA/NCSEA report titled Addressing the Epidemic of Trauma in Schools suggests that school administrators create professional development opportunities for school employees that provide trauma screening and awareness resources. Principals are also encouraged to give teachers appropriate professional development in areas that allow them to recognize secondary trauma and build in strategies to address and de-escalate challenging situations.
Constructing a Supportive School Culture
In her Education Week article, Compassion Fatigue is Overwhelming Educators During the Pandemic, author Shayla Ewing discusses the realities of STS and what it looks like in real time. She states that "compassion fatigue cannot be cured by shortened meetings, notes of encouragement, or working fewer hours. Instead, educators need to be taught how to identify symptoms, connected with high-quality resources, and invited to help change harmful school climates." With that in mind, administrators should maintain realistic and diversified expectations about teacher caseloads and additional responsibilities. To start, principals should survey teachers for feedback around areas they believe would help alleviate stress and additional work, and then work to make reasonable adjustments. Principals should also reexamine the current daily systems and structures in place and cut out unnecessary tasks or limit their frequency.
School Improvement and Mental Health Education
By continuing to lead conversations about the symptoms and effects of Secondary Trauma Stress, principals can create a school culture that allows teachers to share their experiences with colleagues and seek support to address burnout. Administrators should provide educators with information about the Employee Assistance Program, a program that provides resources for teachers experiencing symptoms of STS. Additionally, websites such as the National Child Traumatic Stress Network provide multiple resources to help teachers find more information about Secondary Trauma Stress.
Teacher stress and burnout have always been part of the discussion in public schools; however, as a result of the COVID-19 pandemic, teachers and school staff are facing increased stress and anxiety. By recognizing that teachers are in need of self-care and providing resources and a healthy school environment, principals can successfully implement important practices to support teachers and help them cope with Secondary Trauma Stress.
As a leader in education, you strive to create a school ecosystem that empowers learners. It's equal parts opportunity and challenge. And it's a task you face every day. But what does it really mean to install a school infrastructure that supports teachers and students in a persistently beneficial way?
When teachers enter states of compassion burnout, or any situation permeated with unmitigated stress, their diminished emotional status imperils the mission to maintain an environment of continuous learning. But no matter what roadblocks your faculty faces, you have the power to lift them up. You have the power to equip your faculty with the tools and resources required to maximize learning outcomes. Which is why we invite you to see whether our Leadership Academy services meet the needs of your district.