PLC Model: Supporting Teacher Effectiveness Project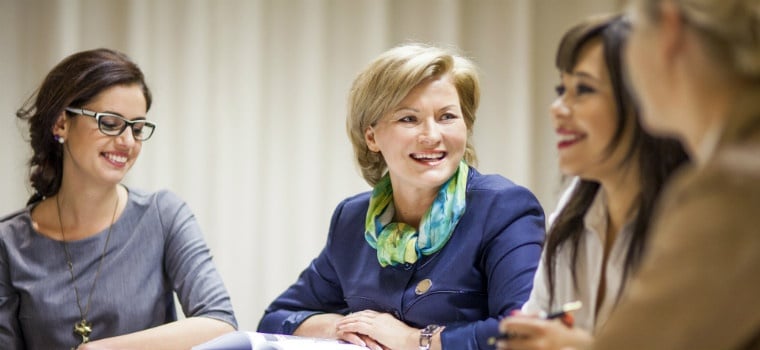 STEP is a systemic, asset-based approach to professional learning communities (PLCs) that helps educators discover and replicate what's working in their schools.
All too often, exceptional teachers don't get the recognition they deserve, and, all too often, their expertise—what they know and are able to do better than most—remains an untapped resource.
The Supporting Teacher Effectiveness Project (STEP) framework guides educators in identifying the bright spots—assets—that can be leveraged and scaled toward greater improvement and replication.
STEP was developed by Insight in partnership with the Bill & Melinda Gates Foundation, Kitamba, American Institutes for Research, and other key organizations to create an approach to help teachers solve problems through discovering, testing, and sharing better practices.
What is the STEP framework?
The STEP framework provides a structured, yet nimble way to conduct PLCs. It attends to the technical and social aspects of improvement, and ultimately helps answer the question: How do we know when a change is an improvement?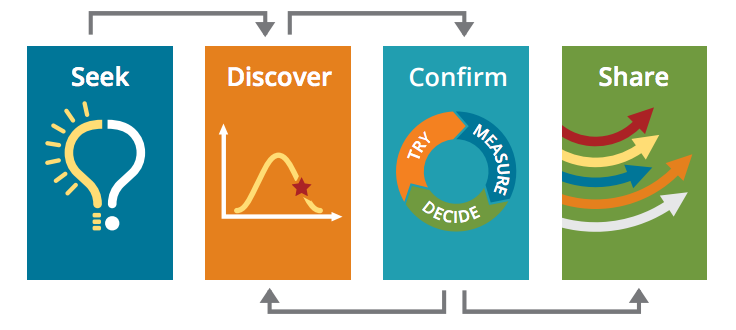 How does STEP work?
STEP is committed to a process of "bottom up" change management and the "top down" conditions that support and encourage teacher-led innovation.
Through the STEP process, teachers find and share positive deviant practices with their peers.
The theory of positive deviance is an asset-based, problem-solving, and community-driven approach that enables the community to discover successful behaviors and strategies from within and develop a plan of action to promote their adoption by all concerned.
Check out this video to hear from educators using the STEP model.
Want more of a look at the STEP process? Download the STEP Playbook Sample, including the introduction and chapter 1, by completing the form to the right (or below on mobile devices).
How does STEP bring change?
Below are five healthy shifts STEP brings to PLCs.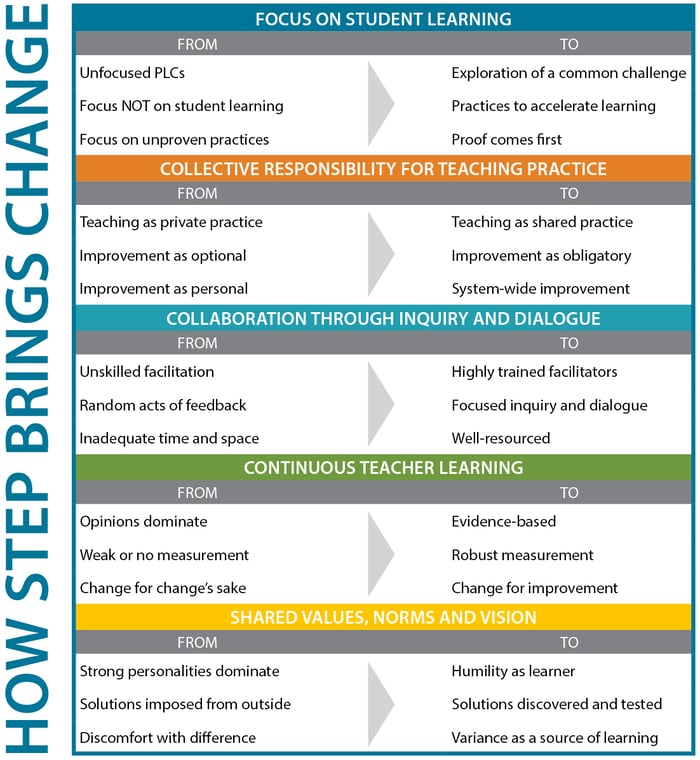 What are STEP's results?
STEP is designed to be a paradigm shift.
Rather than telling teachers how to improve instruction, STEP empowers teachers to authentically select and hone the tools and mindsets that allow them to improve their practice and positively impact student learning.
And it's working.
STEP has been successful at delivering a model that:
drives teacher engagement in improving their own practice
builds authentic collaboration processes and teacher community
creates meaningful job-embedded teacher leadership opportunities
builds teacher measurement literacy and capacity
influences teacher instructional practices
shows positive directional impact on student learning
Interested in learning more?
Download a sample from the STEP Playbook, including the introduction and chapter 1. Complete the form on the right (or below on mobile devices).
STEP Partners