Strategic Planning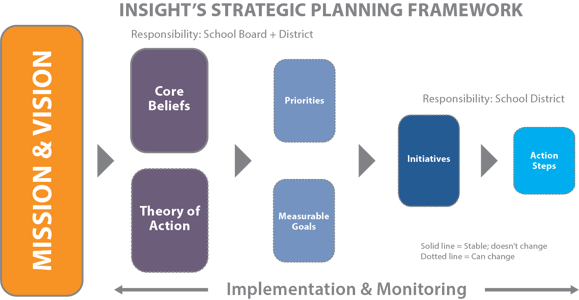 Competing priorities and daily challenges can cause districts to lose focus on their long-term goals. Creating and implementing an effective strategic plan helps districts prioritize initiatives to achieve their mission and vision. Through Insight's collaborative and iterative approach to strategic planning, your organization will create and implement a thoughtful plan that brings bold and equitable change.

Insight can support your strategic planning by:
Creating a new strategic plan: Insight uses a comprehensive, data-driven strategic planning process to engage your local stakeholders. We start with a process to ensure we have a deep understanding of your unique needs and a plan to include students, educators, and the local community. Using Insight's Strategic Planning Framework, we then facilitate the crafting of a thoughtful strategic plan that guides sustainable implementation.
Updating an existing strategic plan: If your district already has a strategic plan, Insight can provide an analysis of the current plan and recommendations for improvement. Insight can then work alongside district stakeholders to revise the plan.
Interested in learning more? Schedule a call with Jason Stricker.